Our technologies
---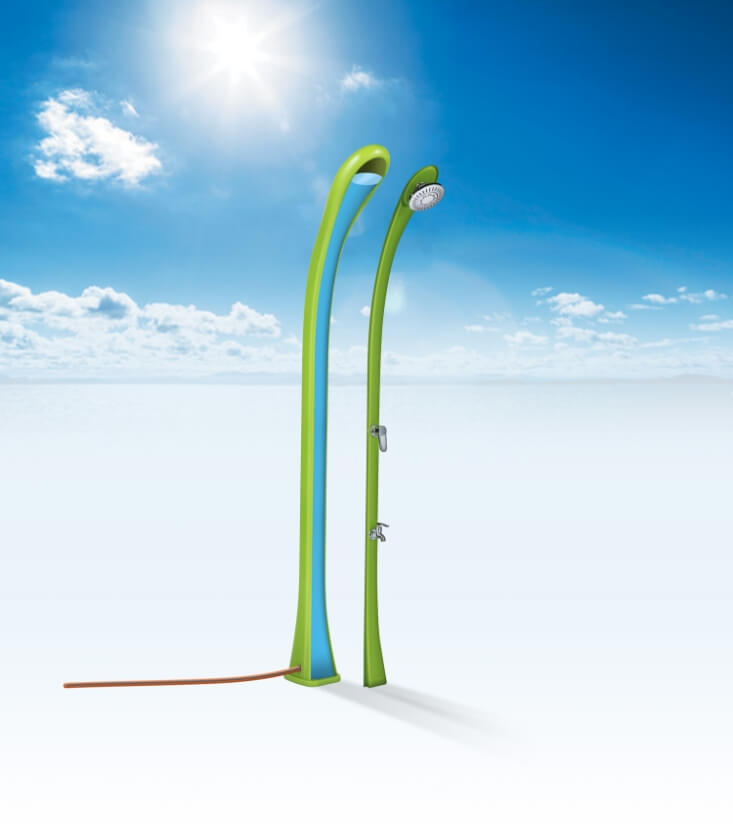 Solar showers
---
The HDPE or aluminium that form the column of our shower act as a thermal conductor by capturing the sun's rays to heat the water stored there and provide hot water naturally.
The water in the shower can reach up to 60 ° C! Thanks to the integrated mixer, you enjoy a shower at the perfect temperature.
Recyclable material
Uses solar energy
2 year warranty
Hybrid showers
---
Hybrid showers combine two technologies for a hot shower all year round, whatever the number of users and the sunshine conditions.
For this, Formidra hybrid showers are equipped with two water inlets. One that fills the shower column with water, which will be naturally heated by the sun's rays. The other which connects to the domestic water supply.
Our hybrid outdoor showers are recommended for public use (camping, beach, etc.) and for large families.
Recyclable material
Showers always at the right temperature
2 year warranty

Material used
---
Aluminium
---
As a modern material, aluminium brings elegance to the outdoor shower.
From an aesthetic point of view, it goes perfectly with powder coating and sublimates our solar and hybrid showers, which blend into the architecture of the garden. On the functional side, the aluminium shower is resistant to external elements such as sun and rain, and it is ultra light.
Aluminium is a fully recyclable material.
Discover our range of aluminium showers
High Density polyethylene
---
High density HDPE is used in the manufacture of our solar showers.
Its high malleability allows us to produce unusual showers in bright
colours that will illuminate your exterior.
This high density gives the polyethylene shower excellent UV resistance.
This material is 100% recyclable.
Discover our range of HDPE showers